What should we do during our first few meetings?
Some ideas for how the first few meetings should be are listed below.
Introduce HOSA with a social or group activity. This can include making cards or decorating some other inanimate object so that members can form connections with each other. Having cookie decorating or other activities can reel in huge participation. Coupled with this can be an intro meeting on what HOSA is. 

Another option is to obviously have the intro meeting right out of the gate especially if your chapter is brand new. This would increase interest for the club and bring in more members. Having an intro game as well such as jeopardy can help increase interest.

The next option after we've had one or two meetings is to have a guest speaker come in. This would keep the members hooked onto the club and what HOSA stands for. New members can realize their interests and passions. Especially if you have a guest speaker come in a couple weeks in advance to FLC, members can look forward to what's to come for the rest of the HOSA year and FLC as well. Considering all the opportunities, having a guest speaker is like a sample taste for new HOSA members.

Now, we all join HOSA to win at conferences. I strongly believe that having workshops or event briefings in the first couple of meetings can help members to a large extent. Especially those who are new to the club. They can realize where their interests lie and can look forward to the upcoming competitive conferences. 

Finally, having some volunteering opportunities or ways to give back to the community can strongly improve membership in that chapter. Feed my starving children or volunteering at elderly care facilities are great options. These ideas for the first couple of meetings can get new members wanting more and looking forward to future meetings.
How to set up a local chapter officer team?
Your local government can be arranged based on what works best for your chapter, but here is a general guide of positions and what their roles would entail. Remember that having an officer team that works well together and communicates well together is important for a successful HOSA chapter!
Positions:
President: Delegating tasks to officers, keeping officers on track, making sure all work is getting done, making meeting slides, leading meetings, helping other officers lead. President in partnership with advisors has final say on decisions 
President-elect/Vice President: Shadowing the president, helping the president with tasks such a s affiliation and registration, help lead the meetings, figure out a timeline for when tasks get done, know what they want to fix for the following year and plan on how to do so.
Secretary: Keeping track of member information, registration and affiliation numbers/records, documenting meetings, tracking attendance, varsity lettering, etc.
Treasurer: Collecting fees such as registration fees and affiliation fees, know how much is in excess, tracking club accounts and how much money is left over/is needed.
Social Media Manager/ Public Relations Officer: Manage the chapter's social media (instagram, TikTok, etc.), post about upcoming meetings, do conference recaps, story polls, etc.
Officer of growth and engagement: hang up flyers around the school, come up with classroom talk scripts, assign classrooms, get booths at back to business or college and career fairs, organize social events for whole school
What should my timeline look like for my new chapter?
In addition to running a chapter, starting a chapter is no small task and may even be tougher. The first few weeks of starting your chapter may be some of the harders of your HOSA career, but if you follow our advice, you'll have a much more efficient and fun time.
Timeline
Below, you'll find a rough timeline of what it starting a new HOSA chapter can look like. Note that this won't be the same for every school and it might easier or harder for some.
Finding an advisor and meeting space

: Ask science teachers, health teachers, school nurses, etc. They will help you in leading your chapter and chaperone for HOSA events. If the advisor works at your school, make sure their classroom can be used as a meeting space. If not, figure out (with your Activities Director) where you can meet as a club 

Gain members/garner interest

: The best way to do this is outreach and marketing your HOSA chapter. So, make sure to create an Instagram account where you can post/promote your meetings or events. Remember that prospective members need a reason to stay, so make sure to market your chapter as a fun activity for all grade levels

Holding informational meetings

: Most often, your first meeting will be an informational session where interested students will learn more about HOSA. It's important that you give reasons to stay because they're still on the edge about whether or not they want to join.

Getting the word out/social media

: Creating an Instagram and following people from all grades is a great way to get people to know about the club. You can also use this account to post/promote your meetings and other events. Make sure to also print out informational flyers and put them up around your community or school. Furthermore, if your school has a "back to business" or activities fair, work with your advisor to get a booth/slot.

Establish a meeting frequency

: After the initial informational sessions, there will be a diverse range of meetings that you can have. From registering your chapter for a conference/event to playing fun games, there will be numerous meetings. In order to provide a sense of predictability for your members, it's important to establish a meeting frequency. With this, members can be confident about moving their schedule around to fit HOSA in.

Fundraising/Budget

: Fundraising is a great way to help lower the cost of conferences and also have money to purchase shared resources to study for your club. Refer to our Fundraising folder in the Local Leader Resources for more information on different types of fundraisers and how to run them.
How should I select local officers?
A vital step to a successful chapter is having a great officer team. Picking applicants can be a tiresome process, but here are some of our tips to manage:
The Interview Process: Interviewing applicants is a great way to see how students truly are. Make sure to ask insightful questions that make the applicant think about their dedication to HOSA

Choosing Applicants: After the interview process, look for students who showed a strong love for HOSA and a hard-working personality. Checking to make sure the applicant has enough time to run a chapter is vital.

Gain input: A student may show a different side of themselves in the interview. A good way to cross this barrier is to ask peers and teachers in your school. Asking for feedback can ensure students are truly who they are, and that they will fight to make the chapter successful.
Ideas for chapter meetings?
Things to Do
When it comes to things to do, there are plenty of options. If you're stuck or need more ideas, please refer to some of our suggestions found below:
Volunteering

Games

Schoolwide HOSA events

Guest speakers
Meeting Starters
Fun games: charades, medical pictionary, mock debate, etc.

Food

Quizzes – Buzzfeed quizzes, pop quizzes, Kahoot!, etc.
Content for Initial Meetings
Informational Meeting:

At the start of the year, you will most likely have informational meetings that will be like an "about HOSA" session

Affiliation

Before the first conference you attend as a chapter, all members will need to be affiliated with national and MN HOSA (fee is $25 per person)

Conference/Event Meeting

Throughout the year, you will also have more informational meetings specific to an upcoming conference/event and information related to it
How do I brand my chapter?
How to: Branding
Branding is an integral part of HOSA that supports our mission of enhancing the delivery of compassionate, quality health care by creating opportunities for our students. Through social media and other forms of branding, HOSA chapters can reach their community in large numbers and substantially increase their impact. 
When designing, follow these general tips:
Choose photos where text can easily contrast with the background.

Make text stand out by placing a translucent shape over an image (and behind the text).

Add a border to focus your content.

Use a low-transparency icon to fill space subtly.

Create your own textures by cropping larger photos.
For social media, follow these simple guidelines:
Create a consistent template for your social posts. This includes colors, fonts, and imagery.

Ensure your designs are consistent across all social media sizes.
Make your cover image complement your profile photo (like on Facebook).

You may need to create multiple templates for different types of content.

A consistent, eye-catching layout will help your viewers recognize and remember you.
Where can I access HOSA resources?
How do I fundraise? What should we do?
Chapter Fundraising
Whether a chapter has been running for decades or has just started at your school, fundraising will always be essential to its growth. Fundraising and how it is executed for a chapter looks differently throughout, it is important that the Local Chapter Team establishes how they want to approach fundraising for the upcoming year. Fundraising is a team effort, meaning that it is prudent that all members are invested in the fundraiser. 
Funds can be used for a plethora of reasons to benefit/aid a Chapter.
Some of the reasons include:
Local or State membership fees

Travel Fees such as the annual State and National Leadership Conference

Supplies/Tools to enhance training for Competitive Events

Professional Development seminars

Community/Team bonding events

Team apparel/merchandise
How Do I Know What Fundraiser to do?
Important Questions to Consider:
How large is your Chapter? What type of fundraiser would be best suited for the chapter in terms of carrying it out?
For example: Selling Chocolates may work best for one chapter and their community, while a Car Wash may work better for another chapter.
What skills will your members gain from said fundraiser?

Communication, leadership, marketing, technical, organizational, etc.

How much will need to be spent in order to be gained?

In evaluating this, keep in consideration how much will need to be spent in order to make profit or provide for this fundraiser.\
Ideas to Get Started
Fundraising Ideas for Chapters
World's Finest Chocolate

Quantity: 1-5 cases per participant (depending on fundraiser length and participants)
Price: Usually $1 per bar works well
Duration: 2-4 weeks
Contact: Online sign up on website worldsfinestchocolate.com

Abby's Candles

Profit: 50%
Purchase method: Online
Potential Earnings: 25 participants selling 10 items each = around $2,750! 50 participants selling 10 items each = around $5,500!
Products: Not just candles, variety packs, and jars as gifts too
Contact: abbycandles.com

Chipotle Fundraiser
Entertainment Fundraising: Coupon Books and Digital Savings Membership
ABC Fundraising

Concept: Scratch the circle to see how much you donate (50 cents – $3), Donator gets a free coupon book for donating
Profit: Each card is worth $100 when everything is scratched off

Ozark Lollipops

Concept: You can decide how much to sell the lollipops for, they sell out fast at events and concessions
Pricing: One bag has 60 lollipops and costs $46.25, 4 bags cost $134.25, 8 bags cost $251.25, etc with multiple buying options

Bake Sale

Concept: Plan it during a large practice or rehearsal and during breaks people will definitely want to buy stuff. Can ask the culinary class to make something, rest can be homemade or store bought (depending on your school's policy)

Games during Lunch

Concept: Fair-style games during lunch times or at events with a lot of people, e.g., hammer and bell games. Have one swing as $3 and two swings as $5.

Otis Spunkmeyer Fundraising

Concept: Cookie Dough Fundraiser
Contact: After sending out an application a local distributor will contact you with details as prices may vary based on location
Contact: otisspunkmeyer.com/fundraising/foods

Bingo Board Fundraiser of Challenges

Concept: Make a bingo card of challenges (like pieing a HOSA member in the face, etc.), each challenge is a certain amount of dollars. Advertise on social media with who donated to do that challenge. You can decide the prices and challenges.

Hershey Fundraising

Concept: Boxes of 30, 52, etc. Each box has a different or random assortment. Chapters can choose how much to upswell them for.
Sellers: The Hershey store, Amazon, Walmart, etc.
Contact: thehersheycompany.com/fundraising

Movie Night Fundraiser

Concept: Host an outdoor or indoor movie screening. Charge admission or accept donations. Sell snacks and refreshments. Promote the event through school and community channels.

Raffle Fundraiser

Concept: Collect donated items or experiences from local businesses. Sell raffle tickets at a fixed price or bundle deals. Draw winners during a school event or online. Promote raffle items and ticket sales through various channels.

T-Shirt Fundraiser

Concept: Design custom HOSA-themed T-shirts. Collaborate with a local or online T-shirt printing company. Sell T-shirts online or at school events. Promote the T-shirts through social media and word-of-mouth.

Restaurant Partnership Nights

Concept: Partner with local restaurants for a fundraising night. Negotiate a percentage of sales donated to HOSA. Encourage the HOSA community to dine at the restaurant. Promote the partnership through school and community channels.

Sports Tournament Fundraiser

Concept: Organize a sports tournament (e.g., basketball, soccer, volleyball). Charge a registration fee for teams or individuals. Offer prizes or trophies for the winners. Promote the event through school announcements and social media.

Community Service Fundraiser

Concept: Organize a community service event (e.g., park clean-up, food drive). Seek sponsorships from local businesses for each volunteer. Engage HOSA members and the community in service projects. Promote the event and recognize sponsors through various channels.

Karaoke Night Fundraiser

Concept: Host a karaoke night at school or a local venue. Charge an entry fee for participants and attendees. Offer prizes for the best performances. Promote the event through school announcements and social media.

Art Auction Fundraiser

Concept: Collect student-created artwork or donations from local artists. Host a live or silent art auction at school or online. Charge admission or accept donations for the event. Promote the event and featured artwork to the community.

Coffee Shop Fundraiser

Concept: Partner with a local coffee shop for a fundraising day. Negotiate a percentage of sales donated to HOSA. Encourage the HOSA community to visit the coffee shop. Promote the partnership through school and community channels.

Battle of the Bands Fundraiser

Concept: Organize a music competition featuring student bands or performers. Charge an entry fee for performers and attendees. Offer prizes for the winning band or performer. Promote the event through school announcements and social media.

Car Wash Fundraiser

Concept: Organize a car wash event at a high-traffic location. Coordinate teams for washing, drying, and promoting. Charge a fixed amount per car or accept donations. Collaborate with a local business for location and supplies.

Talent Show Fundraiser

Concept: Host a talent show featuring students and staff. Charge an entry fee for performers and attendees. Include a variety of acts (singing, dancing, comedy, etc.). Promote the event through school announcements and social media.

Themed Dress-Down Day

Concept: Collaborate with school administration for approval. Charge a fee for participating in the dress-down day. Select fun themes (pajama day, crazy hat day, etc.). Encourage creativity and school spirit.

Trivia Night Fundraiser

Concept: Organize a trivia night with themed categories. Charge a fee per team or individual entry. Offer prizes for the winning team or individual. Promote the event through school and community channels.

Silent Auction Fundraiser

Concept: Collect donated items or experiences from local businesses. Host a silent auction event at school or online. Promote the event and featured items to the community. Raise funds through bids and donations.

Pancake Breakfast Fundraiser

Concept: Collaborate with a local restaurant or school cafeteria. Sell tickets for an all-you-can-eat pancake breakfast. Engage HOSA members in serving and promoting the event. Market the event to the school and local community.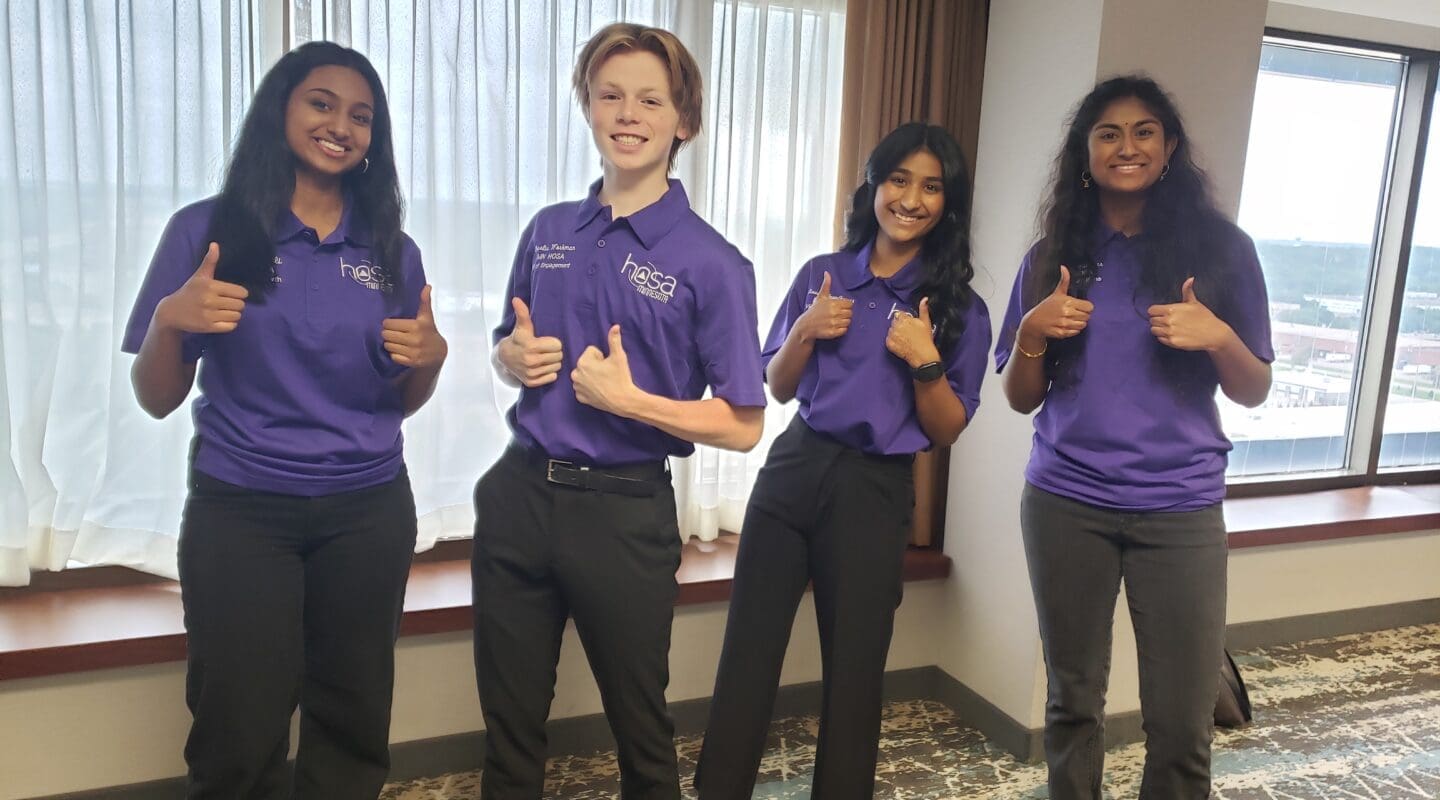 "We really value our partnership with MN HOSA and the work you do with these students. As a college that has a wide variety of health science programs, the education these students come in with is so valuable.

Senior Admissions Counselor, College of St. Scholastica